Welcome to Yoshi's Home Page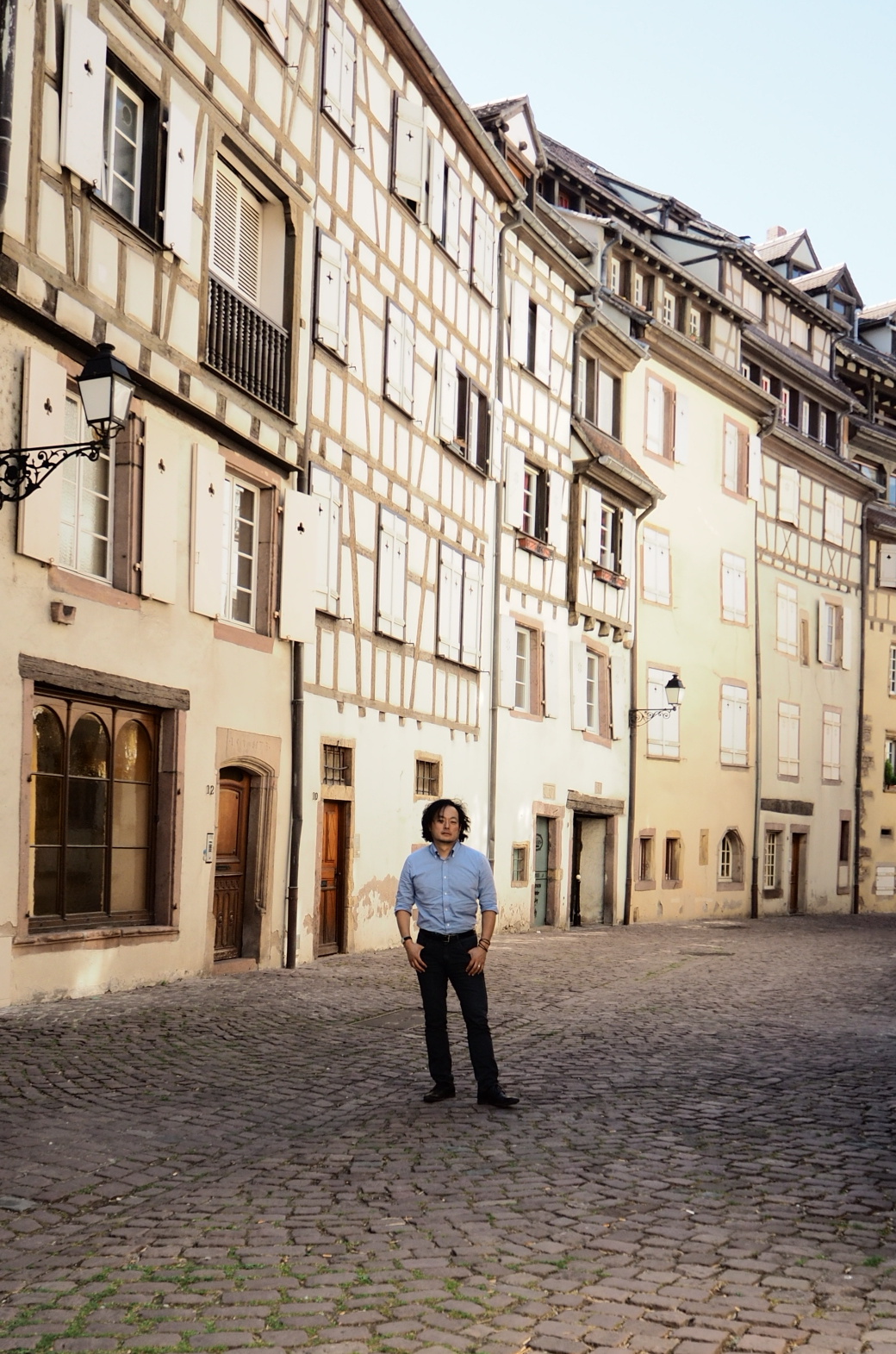 ---
I now say a bit more about myself on my official Imperial page.
---
Yoshi Uchida
Professor of Physics, Imperial College London
Guest Professor, Osaka University
T2K Neutrino Oscillation Experiment
Super-Kamiokande Experiment
Muon-to-Electron Conversion (COMET/PRISM)
Address
Imperial College London,
High Energy Physics Group,
The Blackett Laboratory,
Prince Consort Road,
London SW7 2BW
Office Phone:
+44 (0)20 7594 7821
Office Fax:
+44 (0)20 7823 8830
Email:
Yoshi.Uchida@imperial.ac.uk
Stanford University, Department of Physics (2001–2004)
KamLAND and EXO Experiments
PhD, Physics, Massachusetts Institute of Technology, Department of Physics (2000)
L3 Experiment, CERN, Geneva
Detector Gas R&D, MIT
BA, Science, Kyoto University, Faculty of Science (1994)
International Christian University High School, Tokyo
Downside School, Purley, Surrey
Wattenden School, Kenley, Surrey
---
Please see
my official publications page
for a full list of publications.
---
Selected Recent Activities
Conference Opening Talk
at the
13th Rencontres du Vietnam Flavour Physics Conference
in Quy Nhon, Vietnam, August 2017.
The Physics Colloquium
on neutrinos and charged lepton physics
at the Van Swinderen Institute, University of Groningen, Netherlands, also given at the Georgian Technical University, Tbilisi, Georgia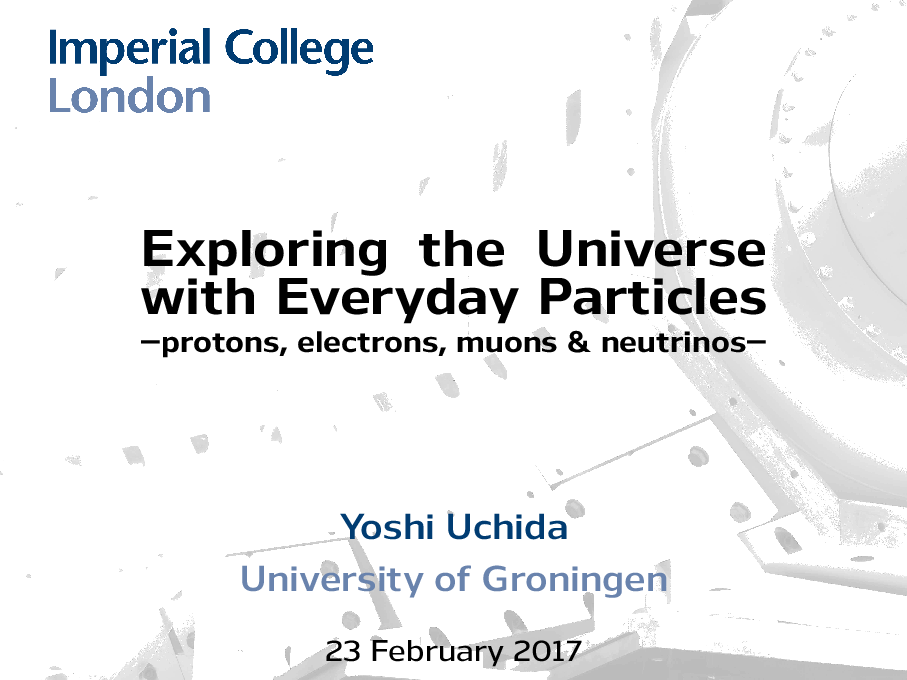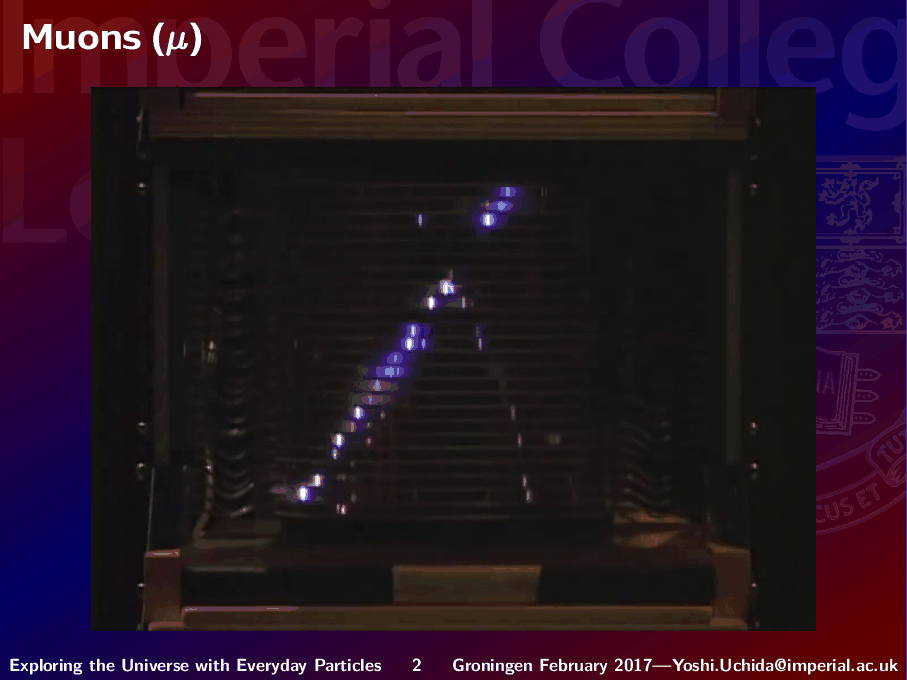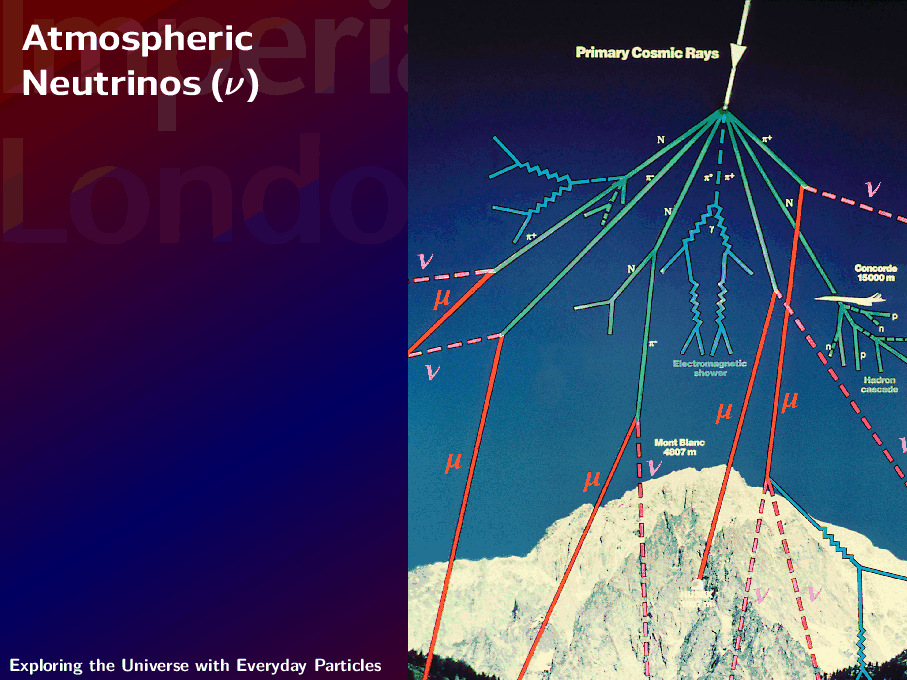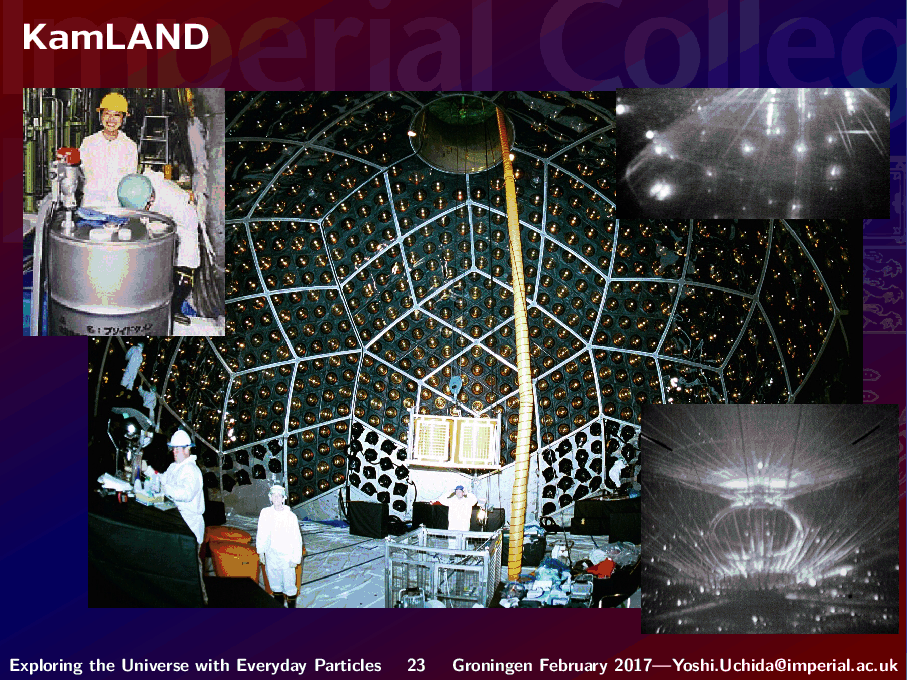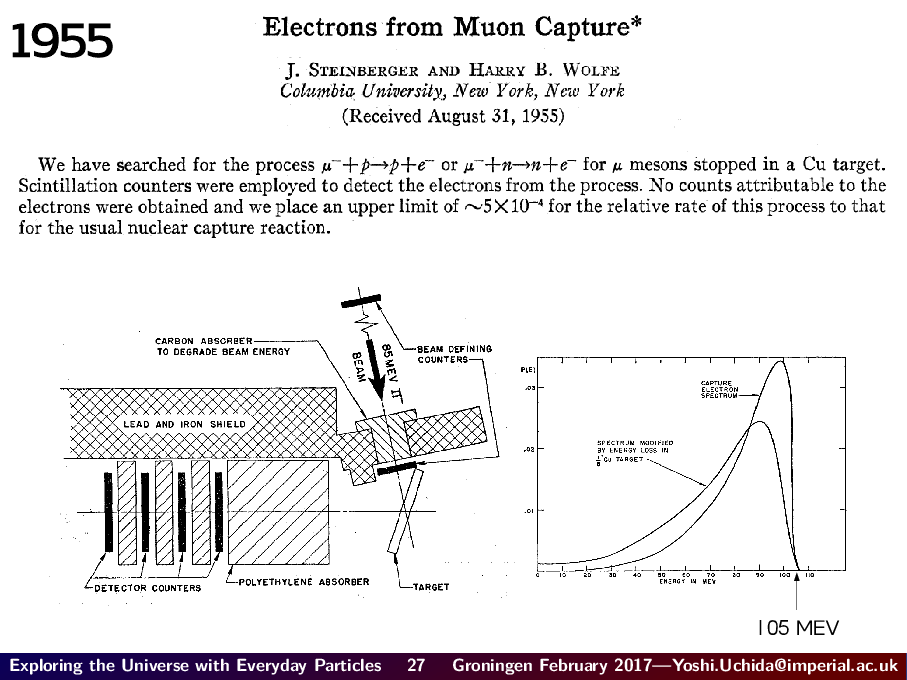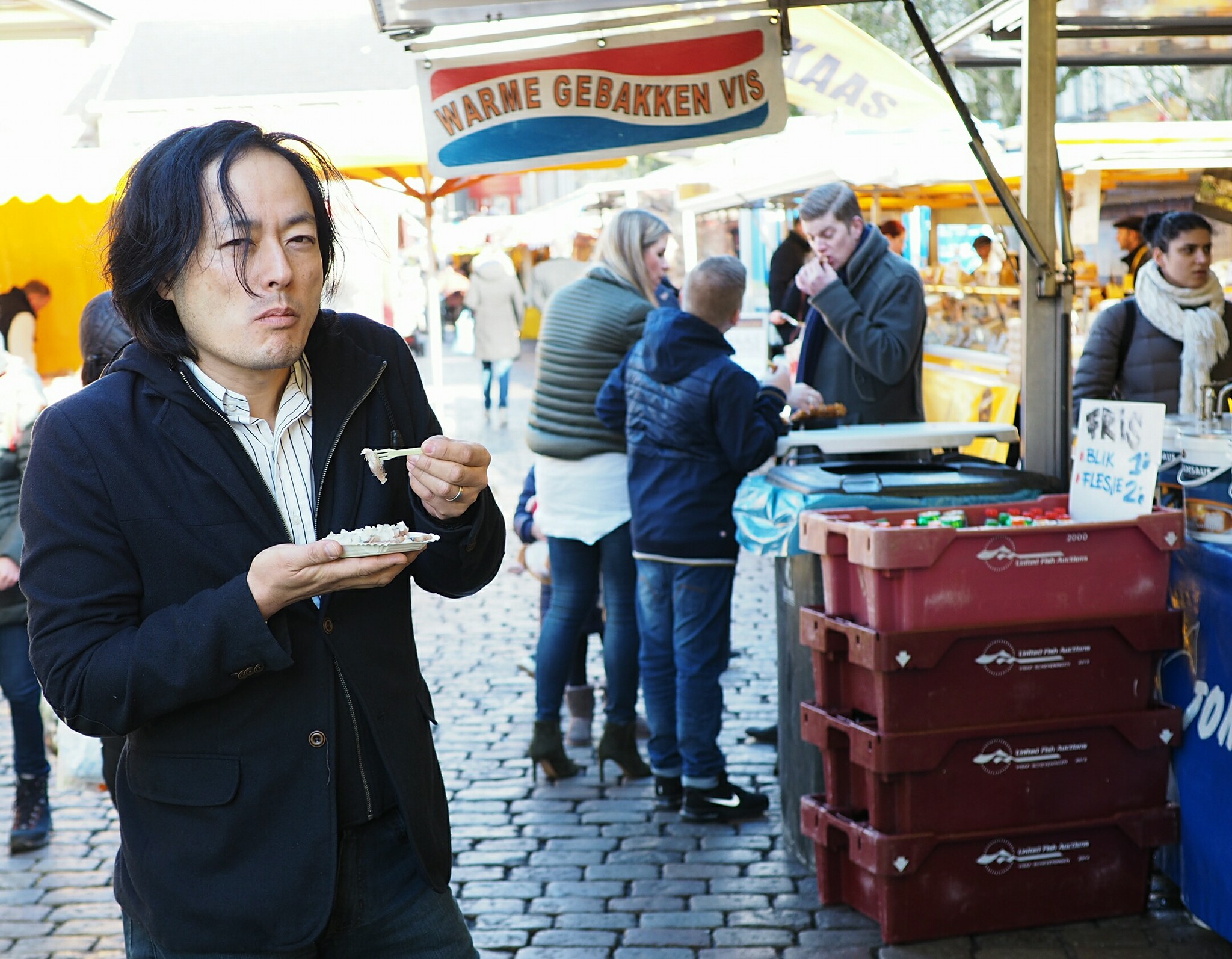 Conference Summary Talk at
Charged Lepton Flavour Violation 2016
in Charlottesville, Virginia, June 2016.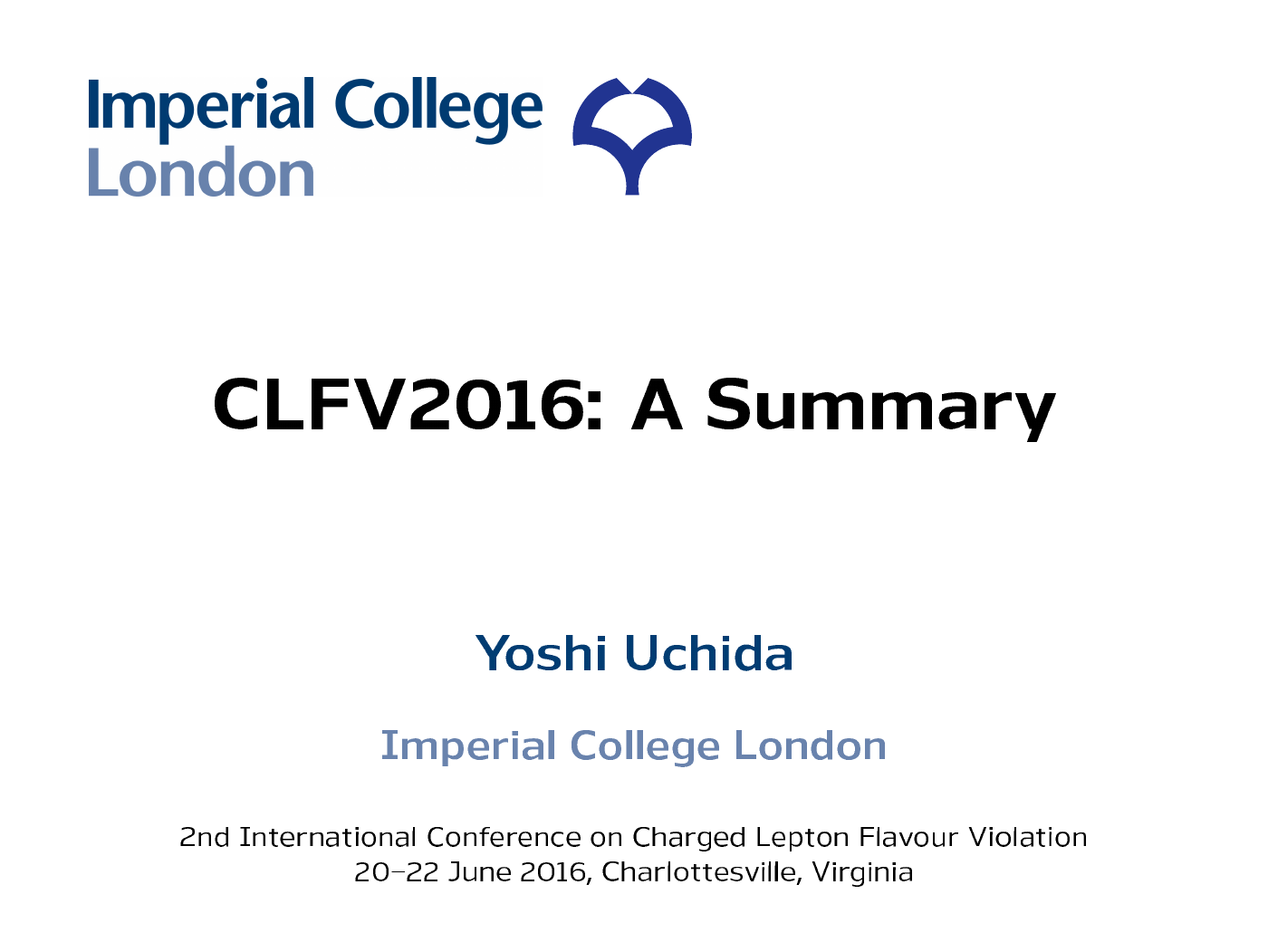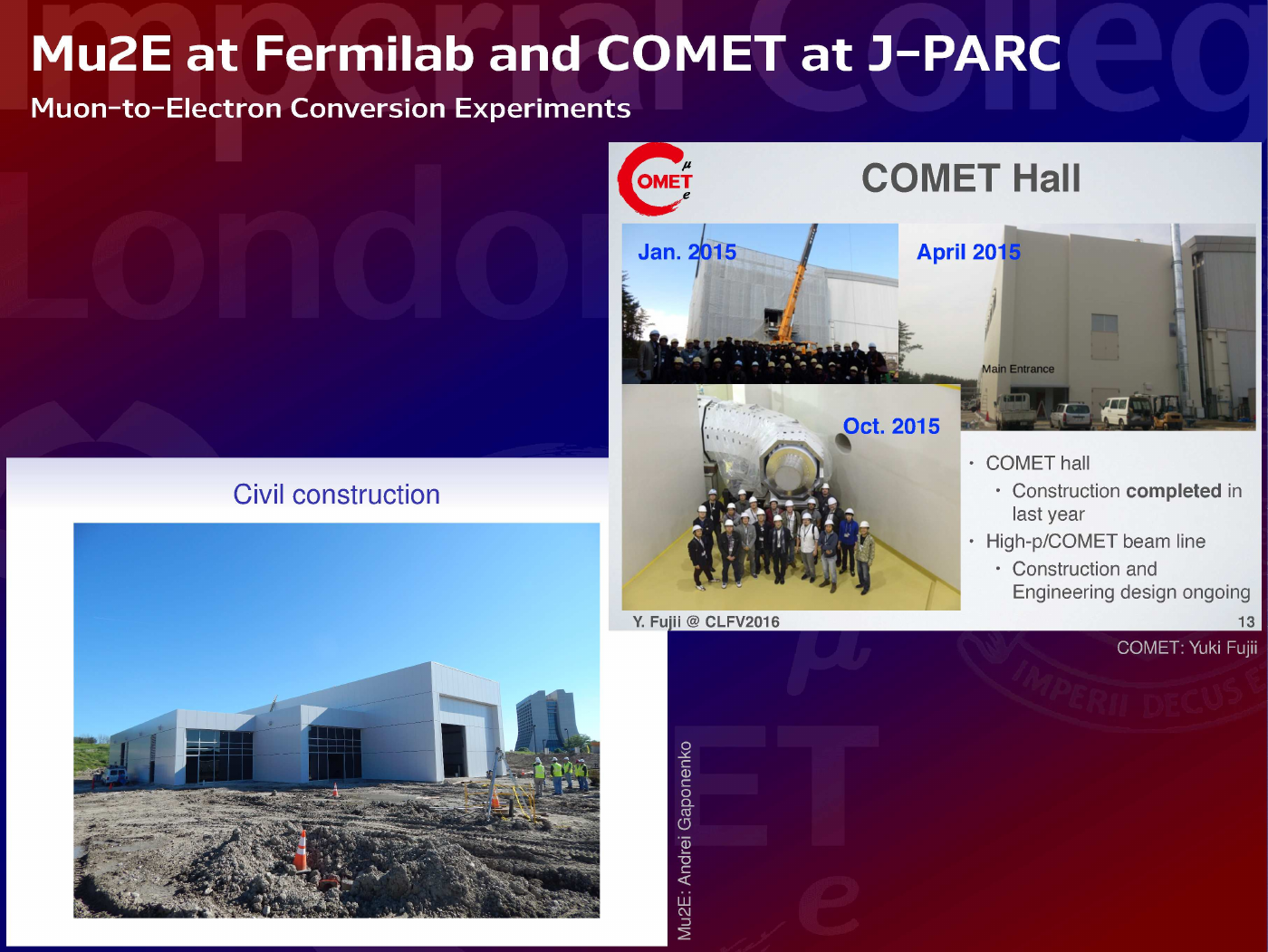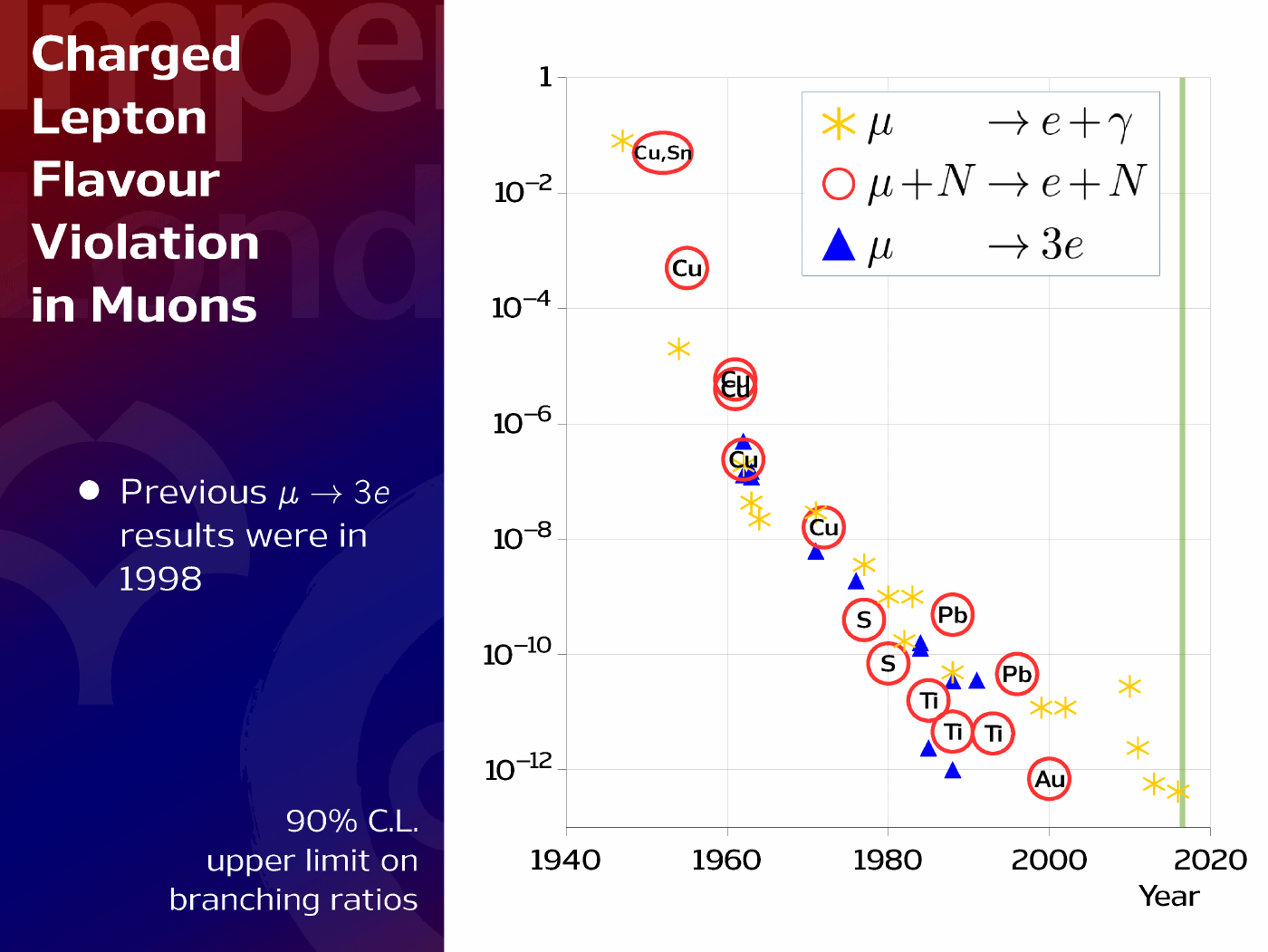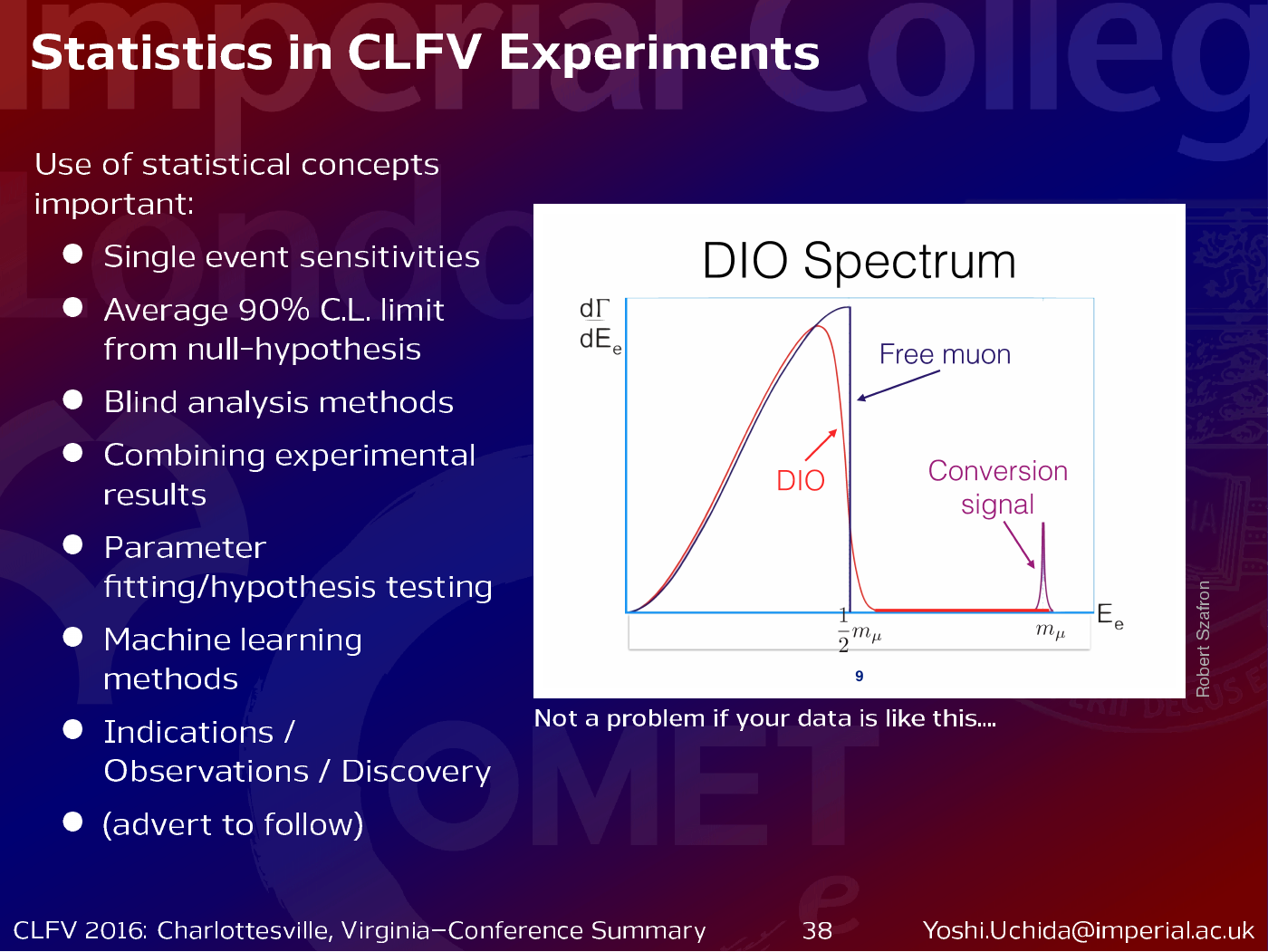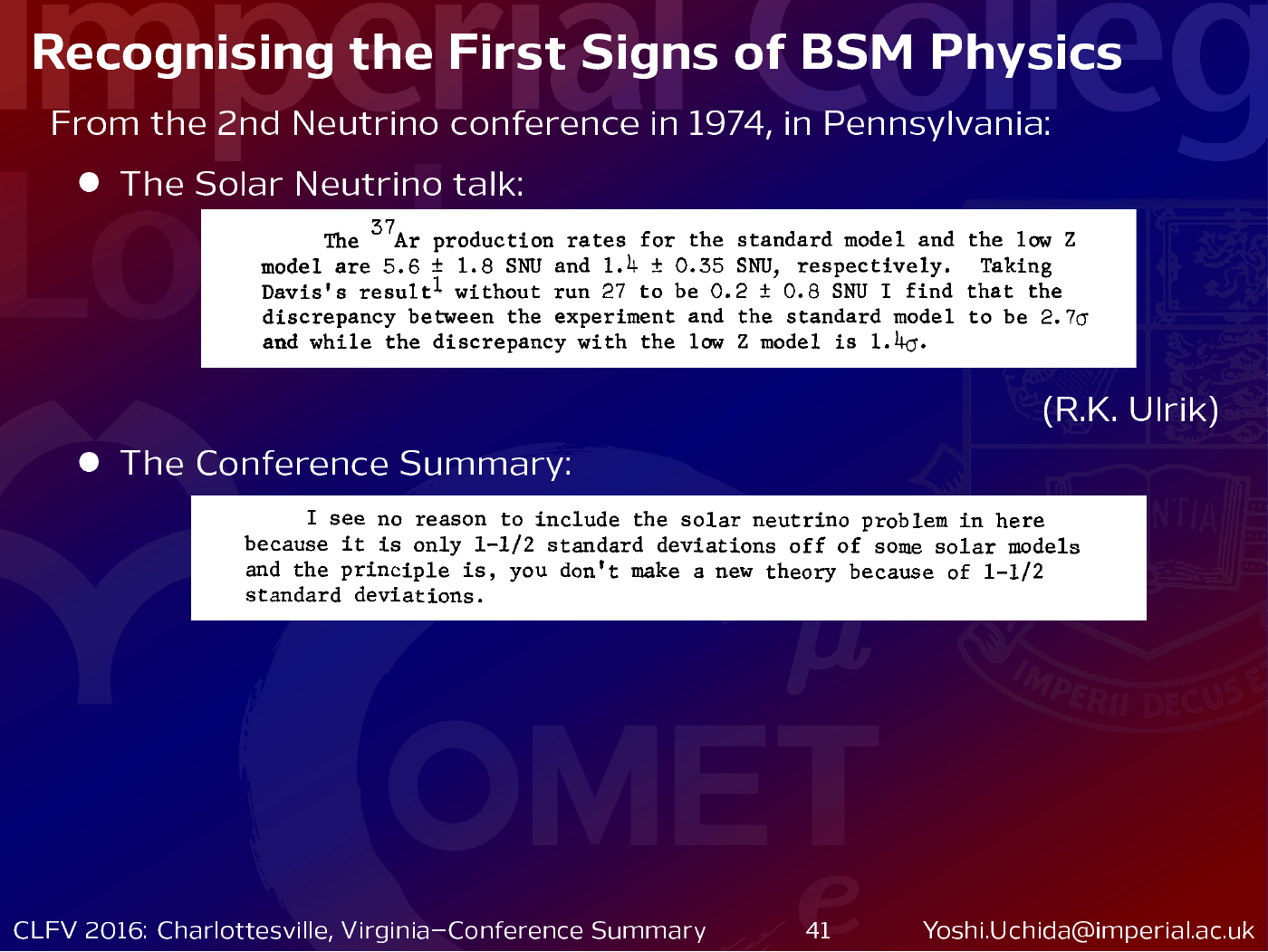 (
this is a very large file
[
local copy
])
Organisation of the inaugural
PhyStat-ν workshop
at the
Institute of the Physics and Mathematics of the Universe
,
held at the end of May 2016 to discuss issues related
to the use of Statistics in neutrino physics.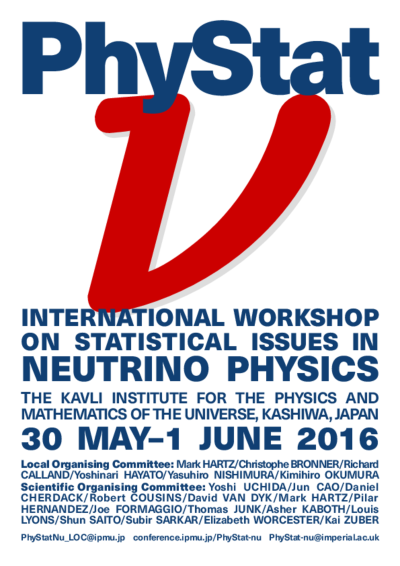 The second edition of PhyStat-ν was held at at
Fermilab 19–21 September, 2016, and the third is at CERN from the 22nd of January 2019.
---
Former PhD Students
One of the great joys of being a research academic is being able to spend a lot of one's time working with fantastic students. My PhD students who have now graduated include:
Dr Luke Pickering (completed June 2017—subsequently a postdoc at Michigan State University on the DUNE and T2K experiments)
Luke was an undergraduate student at Imperial, but I do not think our paths really crossed until he started as a PhD student in October 2013. From the beginning, he was very adept at coding, so it did not take much time at all for him to come up to speed with his work on T2K and start making real contributions. T2K is now quite a mature experiment, so there are lots of topics a strong student can dig their teeth into, and Luke certainly did that! Not only did he make very high-quality improvements to the long-standing T2K ND280 ECAL neutrino interactions work, but he also made real contributions on several other fronts, which led to his publishing papers with a small number of authors that were separate from the big collaboration papers everyone works together on. He was part of a small and lively group of young physicists from across the UK that worked together very effectively, whilst having a lot of fun! One of those was a postdoc whom I originally encouraged to come to the UK and join T2K (although since we did not have a position open at Imperial, I had to recommend that they apply to a different university), which was very nice to see. The contributions that he has made to the neutrino physics community includes a framework that facilitates the comparisons of different mathematical models for neutrino interactions, called NUISANCE....
The one little tinge of sadness that I have with Luke is his choice of programming editor. It would have been one thing if he had gone for emacs, but he actually uses a certain proprietary, non-free software editor, and is the first student of mine who does not use VIM.... But on the other hand, I'm really happy in particular that Luke has gone on to work as a postdoc for Prof Kendall Mahn at MSU, a very highly-respected neutrino physicist that I know of from when she was an undergraduate student at MIT and I was a postgraduate student in the same lab—to think that I would have a future PhD student who would then be employed by her as a researcher was not something that I particularly envisioned happening at the time!
Dr Ben Krikler (completed November 2016—subsequently a postdoc at Bristol on the CMS and LUX-ZEPLIN experiments)
Ben was also an undergraduate student at Imperial, and worked with me during his gap year after gaining his Masters degree, while also travelling round the world, so by the time he joined our group as a PhD student, he was already used to working several time zones away from Imperial and participating in online meetings involving participants from many countries. Our students are given the opportunity to choose which experiment to work for after they arrive, and following much deliberation, Ben decided to do his PhD with me on the COMET experiment, and never looked back. As is the case for many COMET students, his research spanned hardware, software and physics analyses, including work on the AlCap experiment. His contributions to the COMET software framework, which was being completely revamped under the leadership of Dr Ajit Kurup when he arrived, have been nothing short of spectacular. We now have a reliable software framework and a highly active and very international group of collaborators who work together to continue improving it; much of this is due to Ben's open and collaborative nature as well as his outstanding computing skills. His thesis research represents the most thorough study of the physics of the full Phase-II COMET measurement and was quite the tour de force, digging up obscure references to provide the data to constrain the more subtle sources of background which we need to understand. Even though he has moved on from the group and is working on other experiments, I am happy to say that he still keeps in touch, letting me know whenever he has a clever new idea that might help our experiment!
Dr Dominic Brailsford (completed December 2015—subsequently a postdoc at Lancaster on the T2K and DUNE experiments)
Dom was a student at Durham before he arrived here in 2012. He spent a lot of time improving the event reconstruction algorithms, especially in the ECAL, starting from the bottom up (at the single scintillator bar level) and verifying and improving the individual steps of the reconstruction through to the final outputs. He also studied the effects of the magnetic field inside the iron yokes of the ND280 detector, which had not been treated particularly rigorously until then, as it was thought that the impact on physics was small. Dom came up with an alternative implementation of the magnetic field in the simulation, which improved our understanding of background events coming from the magnet, and which is now a standard part of the T2K software. All of this work tended to involve a lot of meticulous comparisons between real data and simulated events, by choosing specific event samples that could be compared between the two, and investigating how any differences arise, and correcting for them if necessary. He also continued our group's tradition of leading the design and maintenance of the offline analysis format that everyone uses. His vastly-improved ECAL reconstruction algorithms were then applied to real events, where hundreds of thousands of neutrino interactions on lead were found. An analysis of this sort, with very large event samples, requires the systematic errors to be understood well, and much of Dom's work involved estimating the effects of many sources of uncertainty that were not needed before.
Dr Ben Smith (completed March 2014—subsequently a postdoc with TRIUMF, on the DEAP dark matter experiment)
Ben also came to us from Durham University in 2010, having spent some time working outside of academia after receiving his undergraduate degree. This was now about a year after T2K had started running, so many of the most important aspects of the experiment, both in hardware and analysis, had been done—at least once. As with any experiment, the challenge of getting everything working for the first time was quickly supplanted by the challenge of doing everything better—equally importantly—demonstrating that is indeed the case. Only then can we improve our results significantly by taking more data. Ben was very quick to jump in and help improve event reconstruction algorithms in the near detector. As a member of the 'reconstruction task force', he made significant contributions to this effort. Later on he shifted his focus to analysing the output of the reconstruction, to do his own analyses on electron neutrino interactions in the detector, while also helping set up a framework that everybody else could use to do their analyses.
Ben was a recipient of an STFC STEP award, so he stayed with us as a postdoc. This gave him the time to allow him to take his thesis analysis and turn in into a fully-fledged paper, which has now been published in the journal Physical Review Letters.
Dr Mark Scott (completed May 2013—subsequently a postdoc also with TRIUMF in Vancouver on different areas within the T2K experiment)
Mark arrived here in 2009 from Cambridge, at about the time the T2K experiment turned on. Most of our students choose the experiment that they will be working on a few months after they arrive—having spent that time studying, and being courted by, these experiments and the Imperial physicists who work on them. So the time Mark actually joined T2K was about the time that the experiment was turning on in December 2009. But there was still much work to be done using data that we had taken at CERN earlier that year, using the ECAL in a 'test beam' of known particles, and working through this data, so that we could use it to help set up the ECAL correctly and interpret the new data properly. This was the initial focus of his work.
Once this work was done, and used to analysed the data coming from the ECALs, Mark went on to contribute to a wide range of topics in ND280, eventually focusing on using new algorithms to reconstruct neutrino interactions occurring in the ECALs themselves rather than in the other detectors, something that no one had done before. Not only does this tell us about neutrino interactions themselves, but it also helped us pin down the number of "background" events caused by the ECALs in the central parts of ND280, which was valuable for the oscillation analyses.
Dr Sarah Ives (completed November 2012—subsequently a postdoc with Imperial on the CMS experiment)
Sarah joined our group in 2008, after completing her undergraduate degree at Oxford. While our group's main focus on T2K has been the near detector, it is only in combination with the neutrino beam (of course) and the far detector that we can figure out how neutrinos oscillate. Sarah worked on the far detector, Super-Kamiokande, initially, where she performed some early studies on the possibility of expanding the fiducial volume of the detector. Once the ND280 near detector turned on in late 2009, there was a huge amount of work to be done for us to be able to understand it. Sarah led the time-calibration of the detectors that we had built in the UK, Electromagnetic Calorimeters (ECALs), which required the detectors to be run using cosmic rays, and the timing offsets between different electronics channels to be extracted from the data. We learnt a great deal about the detectors and their electronics through this work that we now take into account when we use the data from the ECAL. She then went on to do a physics analysis of the shape of the energy spectrum of the neutrino events seen in the near detector at energies of over 1 GeV, which is higher than the typical events that we being studied, which yielded information that helped her make a quantitative estimate of how well we understood the neutrino flux, which has always been a notoriously difficult problem for neutrino beam experiments.
Dr Jim Dobson (completed February 2012—subsequently a postdoc with UCL and then the University of Edinburgh on the LUX and LUX-ZEPLIN experiments.)
Jim arrived in our group from Cambridge in 2007, a couple of years before T2K started running. We were still building the near detector, so Jim worked in the lab to help us understand the components that we were using such as the novel Silicon Photomultiplier detectors, and made sure that they were simulated well in our software. He worked with Dr Costas Andreopoulos at RAL, his co-supervisor, on the GENIE neutrino interaction generator package and also a tool that everyone still uses to help 'reweight' the simulations so that they fit the data well, and to extract systematic uncertainties while doing so. Jim's thesis was one of the first to look at more complicated neutrino interactions in near detector, which made use of the ECALs that we built to understand the pions that are produced.
Towards the end of his time here as a student, Jim won a STEP award, that allowed him to stay with us as a short-term postdoc, to develop his analysis further and to allow the results to be presented publicly.
Soon to be added to the above list are E. Gillies and A. Sztuc and W. Shorrock.